Shoreside Caravan and Camping Park
Shoreside caravan and camping park is located on the edge of Rhosneigr near the train station. It is only 10 minutes walk to the town centre. It takes around 25 minutes to get there from the Britannia Bridge.
Shoreside camping is a well maintained site with decent and clean facilities. The toilet and shower block has enough facilities to not feel busy. There is also a little park towards the rear of the caravan park where the children can run around and play.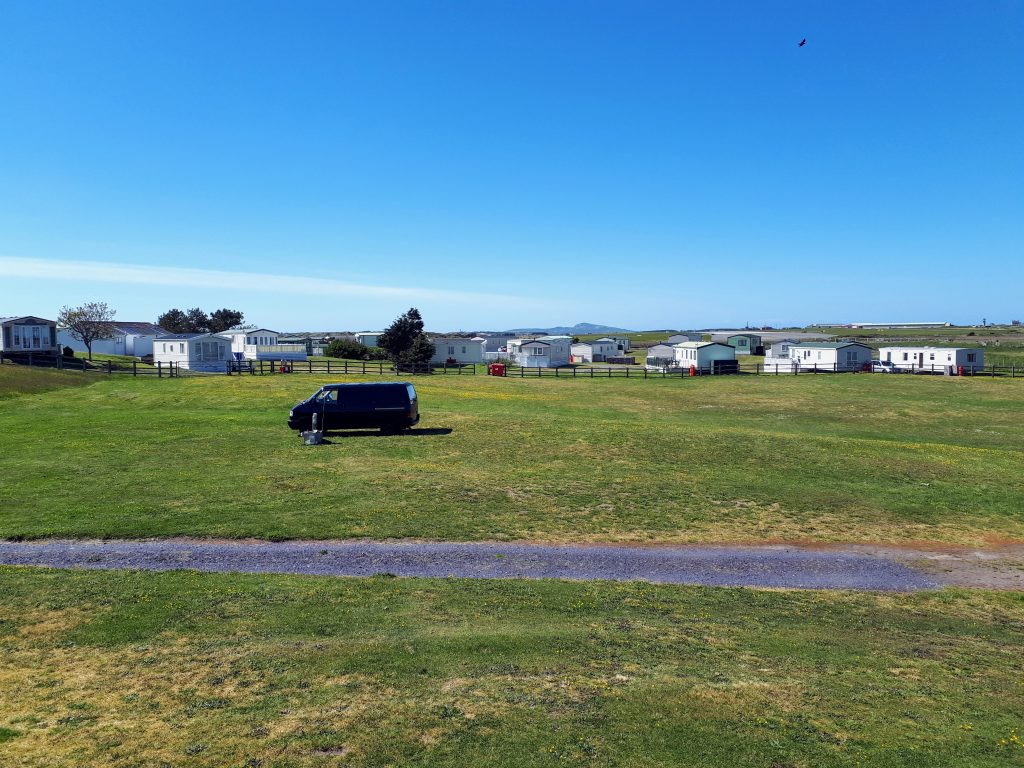 The main camping field is to the rear of the grounds so it's a bit of a walk to the toilets / shower block, but not too bad. The field itself is not entirely flat so choose your spot wisely, tents are usually pitched around the edge of the field. There is enough room in the centre of the field for the kids to play ball games, if its really busy though this area will have tents on it. During the summer holidays this is a very busy site and fills up quickly.
At the front of the site by the main road there is also an area for tents, quite a lot of room actually and is more like an over spill. This section puts you closer to the facilities, it also significantly shortens the walk to the beach and town. The main road is pretty quiet during the evenings and at night time so don't let that put you off. It great if you like fishing too as you don't have to carry your tackle as far.
Access the road where the statics are located is a path to the sand dunes, the little bridge allows you to get across to the rear of Raf Valley. Great for walking the dogs, runs or a steady stroll. Its also a great vantage point to watch the comings and goings of RAF Valley. Follow the river, either side takes you to the main beach simply choose which side you want and you are set. You can walk across the river easy enough at low tide if needed, it's only a few inches deep near the sea. The left path takes you to Rhosneigr Beach and crossing the bridge takes you to Cymyran Beach.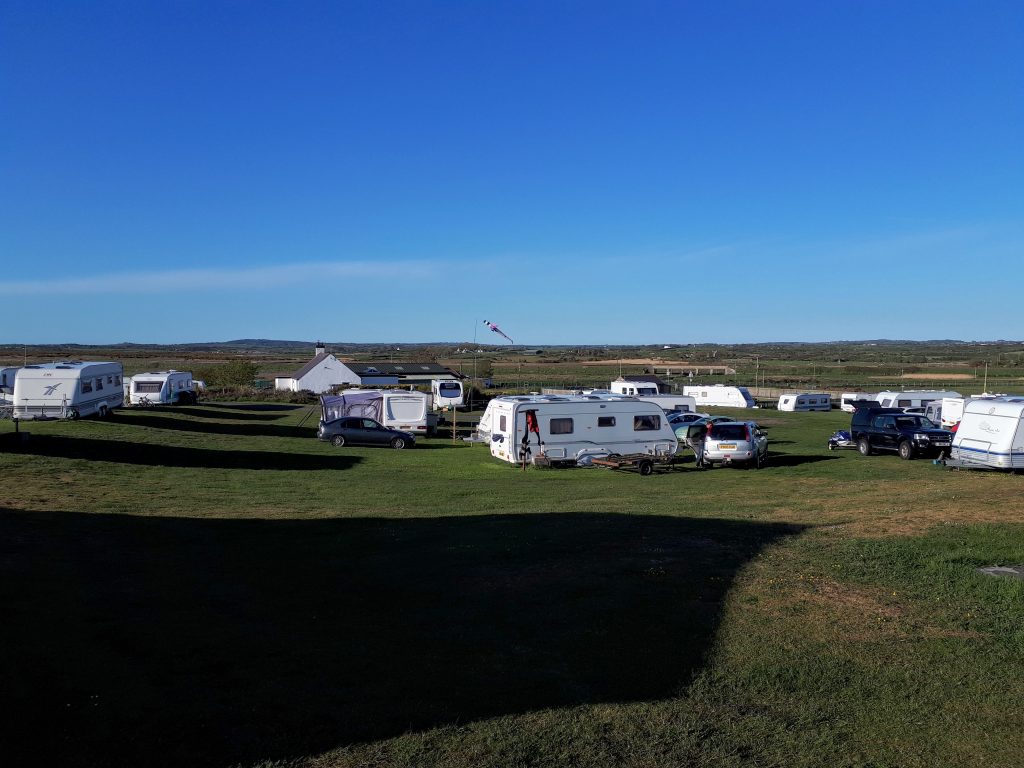 Shoreside caravan and camping park is great place to stay, it's pretty central so nowhere is all that far away. Access to most of Anglesey is available by car in around 25-30 minutes.
Pro's and con's? It depends really, given it's great location and facilities there is one thing that may fit in both boxes. RAF Valley, the planes take off and landing flight path is immediately above. the site. The planes fly low and loud, Monday to Friday. You still get the odd helicopter at the weekend but they don't generally fly close the the site. So no action at the weekends, personally I wouldn't mind if they did fly at the weekends. That said they may not be to everyone's taste, but Shoreside is a very busy place in summer for a reason.
You can get awesome pictures of take off and landings at Raf valley just by the sand dunes. RAF Valley holds a family fun day during summer, we can't attend but we can still watch and its cracking free air show. You can watch from the site or from the sand dunes to be closer to the action.
Walking the river during darkness lets you see animals such as toads that seem to be everywhere. The river its self is full of marine life so take a decent torch and you wont be disappointed. Crabs come in close to the river edges and there are some big fish swimming around, easily picked up with a decent torch.
Recent storms can effect the water clarity around Rhosneigr, a day or two later the water is crystal clear. There are opportunities for a bit of rockpooling on Rhosneigr beach, head down Crigyll Breach to the rocky out crop. Plenty of rockpools in this area and its safe enough for the kids to snorkel in the shallow waters.
Head down the usually desolate Cymyran Beach if you like isolation and tranquility, usually the odd walker or maybe a horse rider will pass and very little else.
Shoreside Caravan and camping at Rhosneigr is £7 per adult and £3 per child per night. Rhosneigr is a Mecca for waterproof enthusiasts and Shoreside caravan and camping is close to the action. There are many who have Jetskis and small boats on the site with their caravans. Its literally the perfect place to stay if you are into watersports.
For me it's a solid 9/10 and one of the premier campsites on Anglesey due to its location and nearby activities/ facilities.
You can find Shoreside caravan and camping park at:
Crigyll View, Station Rd, Rhosneigr LL64 5QX
Shoreside is as good a campsite in Anglesey as any other though not as secluded as others. What it lacks in that respect it makes up in its location and local amenities. Night time is generally quiet even areas near to the main Rhosneigr road, there is little traffic in the evening. If you like military aircraft then there is your added bonus.
I got one of these to pump up my boat so a couple of air beds is no problem, its rechargeable too. Great bit of kit.
For further information and bookings please visit https://www.campsites.co.uk/search/campsites-in-wales/anglesey/rhosneigr/shoreside-caravan-and-camping-park
I honestly cant fault the place hence we visit at least once a year.